Mission
We work with Rwandan families, helping them create a path to a better life through income opportunities and education.
Our Approach
What makes Rwanda-one4one unique is a combination of special factors:
Size. We're small — and intend to stay that way — we're mighty, and we're nimble too.
Structure. We're all volunteers.
Solutions. We have an unwavering commitment to creating long-term relationships with the families we serve. We offer a hand up.  And, we offer a piece of our hearts.
Board and Advisors
The Board of Directors and Advisory Council of Rwanda- one4one bring commitment, compassion and leadership to the organization.
Nancy Zeller
Founder and Executive Director
Westmoreland, NH
Jennie Norman
Board Chair
Goodland, FL
Harrisville, NH
Read Bio
Jennie is a retired senior executive with experience in marketing, operations, finance, general management and strategy. Her twenty-year career at MARKEM Corporation in Keene, NH included roles as Executive Vice President of the Corporation and Division President.
Jennie is currently Vice Chair of the Board of Directors of Tauck Inc. in Wilton, CT, where she also serves as Chair of the Compensation and Evaluation Committee and as a member of the Governance and Nominating Committee. Ms. Norman also serves as Board Chair for United Electric Supply Company in New Castle, DE and on the board of Cakebread Cellars in Rutherford, CA.
In addition to her professional experience, Jennie has served in leadership positions on non-profit boards in New Hampshire for over 30 years. Her board service includes Dartmouth-Hitchcock Medical Center, Cheshire Medical Center, Monadnock United Way, Monadnock Community Foundation, Society for the Protection of NH Forests, and the Monadnock Conservancy, among others. She is a recipient of the Greater Keene Chamber of Commerce "Citizen of the Year" award and Rotary International's Paul Harris Fellow award.
Jennie graduated cum laude from Dartmouth College in 1983 with a BA in Biology. She is also a graduate of the Executive Management Programme at INSEAD in Fontainbleau, France and has participated in executive education courses at the Tuck School, Stanford and Wharton.
Jennie lives with her husband in Goodland, Florida and Harrisville, New Hampshire.
Jo Ann LaBarre
Board Chair
Westmoreland, NH
Read Bio
A life-long resident of New Hampshire, Jo Ann is highly skilled at budgeting, legal issues and town management. She has served the Town of Westmoreland, NH as Town Treasurer since 1999, the Westmoreland Town Administrator since 2012, and the Westmoreland United Church Financial Secretary since 1997. In her spare time Jo Ann enjoys crafting, gardening, camping and spending time with her Family.
Emma Pantesco
Secretary
Westmoreland, NH
Read Bio
Emma is a life-long resident of New Hampshire. She attended schools in the Monadnock Region and went on to earn a BA in Sociology from Keene State College, Keene, NH. She also earned a LNA (Licensed Nursing Assistant) certification. In 2011, she made a shift from pursuing a medical career to customer service, and is employed with United Natural Foods, Inc. (UNFI) as a Customer Care Specialist. She is a skilled verbal communicator, proficient in Excel, CorelDRAW, Photoshop, Word, and graphic design work.
Emma's personal passion is a love for animals. She is a shepherdess at Long Ridge Farm, Westmoreland, NH, supports animal rights and rescue, and is owned by 3 handsome cats.
Katherine M. Richardson
Surry, NH
Read Bio
Katherine currently serves as Director of Development and Community Relations at Cheshire Medical Center in Keene, New Hampshire.  Prior to this, she was Campaign Manager at Monadnock United Way for almost three years, overseeing many aspects of their annual $2 million campaign.  Before United Way, her career focused primarily on marketing, having worked as Marketing and Admissions Coordinator at Antioch University New England for three years and in New York City where she began her career with the Pittston Company, a Fortune 500 company, and later at an international consulting firm as a marketing assistant.  Katherine and her husband, Patrick, moved to Surry, New Hampshire in 1990, where she was a stay-at-home mom for 10 years.  During this time, she helped her husband establish and manage Richardson Home Inspection Service.
Katherine is active in the Keene community with a number of non-profit organizations.  She is currently on the MoCo board. She also volunteers at the Keene YMCA, the Monadnock United Way, and most recently the Keene Housing Kids Collaborative.  Her most rewarding volunteer role is with Big Brothers Big Sisters where she has been a Big Sister to a very active 11-year old girl for the past three years.
Katherine attended Virginia Intermont College and received an A.A. degree in 1978 as a dance major. She is a member of the Association of Hospital Philanthropy as well as the Association of Fundraising Professionals and is a CFRE (Certified Fund Raising Executive) candidate.
If Katherine had all the time in the world, she would definitely devote far more time to her garden as well as reading, kayaking, hiking, and traveling the world.
Keely Fillo
Social Media Coordinator
Keene, NH
Read Bio
Keely has a B.S. in Marketing and Advertising Communications from Johnson & Wales University and loves using those skills to help people. She is currently a Digital Marketing Specialist at the Fenton Family Dealerships. When in her free time, Keely enjoys staying active, cooking new recipes, learning coding languages, finding new TV series to watch, and staying informed on social, economic, and political issues.
Read Bio
Jennifer was born and raised in Cheshire County, NH. She attended Keene State College, where she received a BA in Film Production in 2001 and has continued to live and work in the area as a long-time employee of several local nonprofits.  In addition, Jennifer owns The Production House, a video production company located in Keene, NH.  Much of her work as a video producer is focused on supporting local nonprofits and sharing their stories through film. Her hobbies include photography, roller derby, volunteering, and jewelry making.  Jennifer has a deep passion for community, art and visual storytelling!
Pat Colony
Harrisville, NH
Read Bio
Pat was born and raised in New Hampshire, specifically Harrisville, where she has lived since the early 1960s. She earned a BA in Psychology from Keene State College, Keene, NH in 1973. After living in California and Mexico, she returned to Harrisville and worked at Harrisville Designs where she developed and managed the Marketing and Sales Department. Pat is co-owner of Harrisville Designs with her husband Chick, and serves as Creative Director. She headed up the art department and was responsible for all printed materials, advertising and new products for the company as well as establishing their first website.
Pat is proficient in weaving, knitting, color theory and other aspects of textile arts and has also has been responsible for Harrisville Designs Retail Store including their educational program. Pat has a strong presence in the local community, serving on non-profit boards and local committees.
Gina Goff
Sharon, NH and Chatham, MA
Read Bio
Gina Goff is the Senior Director of Community Involvement for C&S Wholesale Grocers* and has been with the company for more than 15 years. Her work shapes corporate citizenship at C&S and she is responsible for implementing the company's citizenship initiatives.
Guided by a corporate social responsibility strategy, Gina is directing C&S toward building a values-based company, engaging employees to take action on behalf of others, investing in local charitable organizations,
and leveraging key nonprofit partnerships to drive change nationally. She's the company's spokesperson on topics related to philanthropy and community involvement and also serves on the Board of Directors of
C&S Charities, Inc.
Prior to C&S, she worked at Milton Academy, the Massachusetts Society for the Prevention of Cruelty to Children, The Discovery Museums and was the editor of a small magazine.
She has held multiple volunteer leadership positions in the community, including with the Monadnock Conservancy, Monadnock Humane Society and Giving Monadnock. She currently serves as a National
Advisor to First Book, is a member of FoodCorps' National Corporate Council, a Regional Advisor to the New Hampshire Charitable Foundation and is also an Advisor to the Sharon Arts Center and the Cheshire Medical Center. In her town (Sharon NH), she's a Trustee of Bass Park and volunteered for many years with the Conservation Commission.
Gina earned a B.A. in Communications from Simmons College in Boston. She is a graduate of the
Boston College Center for Corporate Citizenship and holds membership in the Association of Corporate Contributions Professionals.
She shares a mountainside home with her husband Rory, two German Shepherds and two cats. In their lives is Randall, a wonderful young man who they consider to be like a son.
When not in New Hampshire, Gina can be found on the beach in Chatham, MA, often at sunrise. Her passions include horseback riding, travelling and gardening.
*C&S Wholesale Grocers of Keene, NH, is the largest food wholesaler and according to Forbes Magazine, the 10th largest privately held company in the United States.
Founder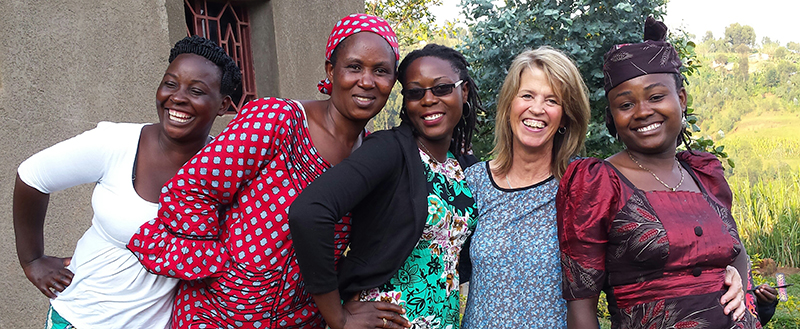 Nancy Zeller is the Founder of Rwanda-one4one.
Nancy Zeller is a humanitarian, philanthropist, artist, natural dyer and shepherdess.
Her first trip to Africa was in 2013 when she assisted a group of 35 Rwandan genocide widows expand their color line of handspun, naturally dyed yarns.  On that trip she instantly was taken with the country of Rwanda and especially with its people.  Their resiliency, creativity and deep optimism for a better future inspired her to start Rwanda-one4one, a non-profit 501(c)(3). She travels to Rwanda at least once a year.
Nancy holds a double major in BA in Art and Psychology. Her study of natural dyeing has taken her around the world including the US, France, and Australia. In 2015 she conducted a research project to determine dye color properties of indigenous plants in Rwanda conducted through INES-Ruhengeri University in Rwanda at their botanical gardens.
Founded in 2005 by Nancy Zeller, Long Ridge Natural Dyes is located on the East Coast at Long Ridge Farm, a New England hillside farm in the Monadnock Region of the Connecticut River Valley, New Hampshire. She has a studio/shop at the farm, and hosts workshops and events that attract textile artists worldwide. For more information about Long Ridge Natural Dyes, click here.
Frequently Asked Questions
General
Does Rwanda-one4one have paid staff?
The organization is all-volunteer.
How does my purchase of Umva items make an impact?
When you buy a lovely Umva scarf or wrap, you're causing a positive ripple effect.   Umva trains, employs and empowers women and that in turn strengthens the family, the community, and the local economy.
With so many people needing a hand up, how does Rwanda-one4one choose the families?
There is no easy answer to this question as the way we select families is not scientific.  We use a combination of our hearts and heads…and factor in qualities and values that we believe are important for success in working with us – honesty, drive, commitment and fiscal responsibility.
How does Rwanda-one4one pay the costs of medical care and education for the families it helps?
First, we learn there is an issue, then we seek medical advice and get a cost estimate.  The family provides receipts after care/surgery and Rwanda-one4one will reimburse them. For the children's school fees, it's the same, Rwanda-one4one provides reimbursement upon proof of payment.
What are the plans for Rwanda-one4one in the future?
Our short-term plans for the organization are to increase donated and earned revenue with the aim of serving more families, and lifting them up and out of poverty through education and employment whether through the Umva project, starting their own business or through other options.  Long-term we plan to build relationships with non-governmental organizations (NGOs) operating in the country and to explore how to collaborate.
What does the word Umva mean?
Umva [oom-vah] means "listen" in Kinyarwanda, the language of Rwanda.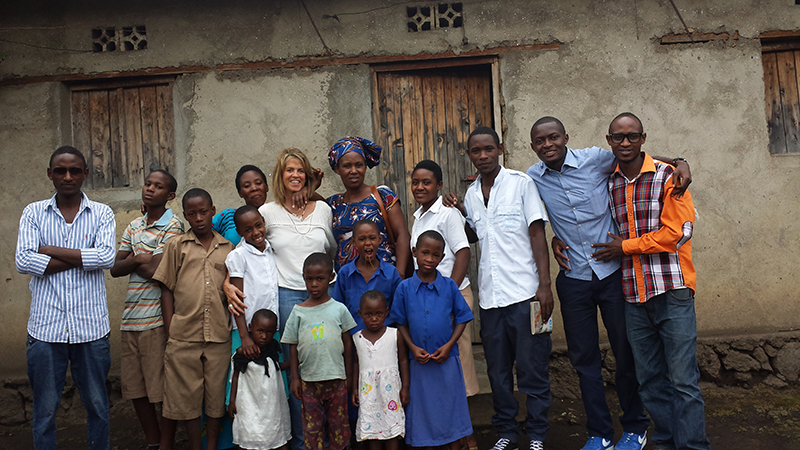 Support
How can I give online?
Make a donation to Rwanda-one4one via PayPal on our secure portal.  You don't need a Pay Pal account.
How can I give a gift by check?
To make a gift by check, please mail it to Rwandaone4-one, 116 Paine Road, Westmoreland, NH 03467. Please make your check payable to Rwanda-one4one.
Are donations to Rwanda-one4one tax deductible?
Yes. Rwanda-one4one is a 501 (c) 3 organization, and donations made by US residents are tax deductible.  Acknowledgements are mailed annually in January for donations made via any method.
Does Rwanda-one4one share donors' information?
We will not sell, rent or trade our donors' names, postal addresses, email addresses or phone numbers with any other entity.
Can I donate clothing or other items for the families served by Rwanda-one4one?
Sorry, but we cannot accept in-kind donations.
What else can I do to help?
We love this question, and have several ideas:
If you're traveling to Kigali in Rwanda, we would be grateful if you could pack some fabric (silk or wool) in your suitcase for the Umva project.
Spread the word, including on social media, about our work to your family and friends.
Buy beautiful Umva wraps and scarves!  These one-of-a-kind items make great gifts and are a source of earned revenue for our Rwandan families.
Donate air miles through Delta/KLM or United/Air France.